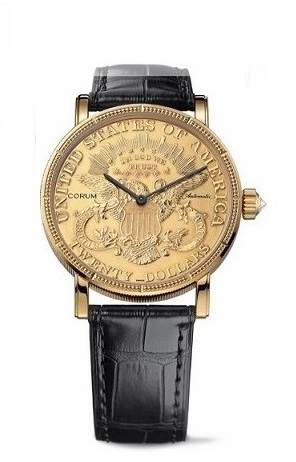 Corum introduced their iconic Coin watch in 1964, the design is so singular that it has had a lasting impact on collectors – and U.S. presidents! George Bush Sr, Ronald Reagan, Lyndon B. Johnson, Jimmy Carter, Richard Nixon, and Bill Clinton have all worn the Coin, as have a number of leading figures in art and design, including renowned artist Andy Warhol, and celebrities.
For over 57 years the Corum Coin watch has remained one of the most sought after luxury watches in the world. Corum continues to produce these models in limited editions for other countries as well.
To produce this unique piece, a 20 dollar American gold coin is split in two and machined to accommodate the Corum high precision automatic movement, while the case back is the other half of the coin. The result being a beautiful work of art.
To purchase this watch or for more information contact Corum Authorized Retailer, Exclusive Timepieces Luxury Watches in San Antonio, TX. Tel. 210.886.8004. Text us 956 605.8200.