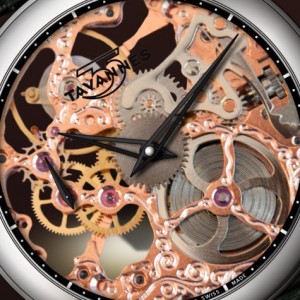 The art of Swiss Skeletonized luxury timepieces is one of the most difficult, and technical feats in the luxury watch industry. This is done by removing all of the access metal, and engraving what is left to the minimum essentials. Each timepiece in the Tavannes Skeleton Collection is engraved, and lavishly decorated with rose gold, yellow gold, or silver tones.
Established in Tavannes, Switzerland, in 1891, Tavannes Luxury Watches specializes in bringing the "RARE" art of lavishly decorated, and engraved, skeletonized movements to their Skeleton Collection. By using the finest Swiss movements, they have accomplished what many luxury watch manufacturers have not be able to, that is, to manufacture a high-quality, true skeleton luxury watch at an affordable price.
Currently available in six different models, each Tavannes Skeleton timepiece houses the reliable Swiss made 38 hour power reserve ETA Caliber 6498 Swiss Unitas mechanical wind movement, which is fully skeletonized, and lavishly decorated.  The complete movement is visible through the front and back, sapphire glass,  making these exceptional "STUNNING MASTERPIECES" to admire.
WELCOME TO TAVANNESS LUXURY TIMEPIECES "THE ART OF SWISS LUXURY WATCHMAKING"