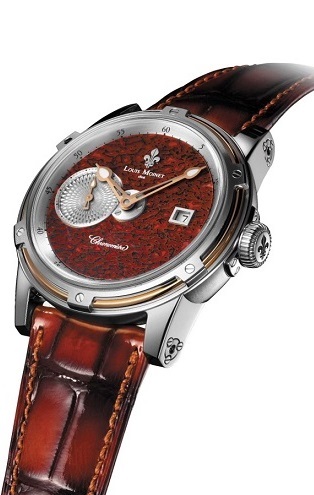 Luxury Watch Manufacturer, Louis Moinet presented a Unique Piece No. #01/01 in a two tone, stainless steel case with rose gold. It is a Jurassic Dinosaur bone dial and it is absolutely GORGEOUS! The dial is fossilized dinosaur bone that is 150 million years old, yes, 150 million years old! The unique bourdeaux color dial reveals the composition of the fossilized bone.
Presented in a polished 44mm case the dial is crafted from rare, fossilized Dinosaur bone estimated to be 150 million years old. It features an automatic movement with a date indicator, a second hand at the 9 position, and exhibition glass back. The case back is engraved with N0. 01/01 indicating there is only one in the world. It is available on an elegant black color alligator leather strap with a stainless steel folding buckle. The watch comes with a Letter of Authenticity which guarantees the Dinosaur bone is authentic.
PRICE $58,800.
To purchase this watch contact Exclusive Timepieces Luxury Watches in San Antonio, TX. Tel. 210.886.8004, or text us at 956.605.8200.
Exclusive Timepieces Luxury Watches is an Authorized Agent for Louis Moinet